Framing the Neighbourhood: Jasper Place Lumberyards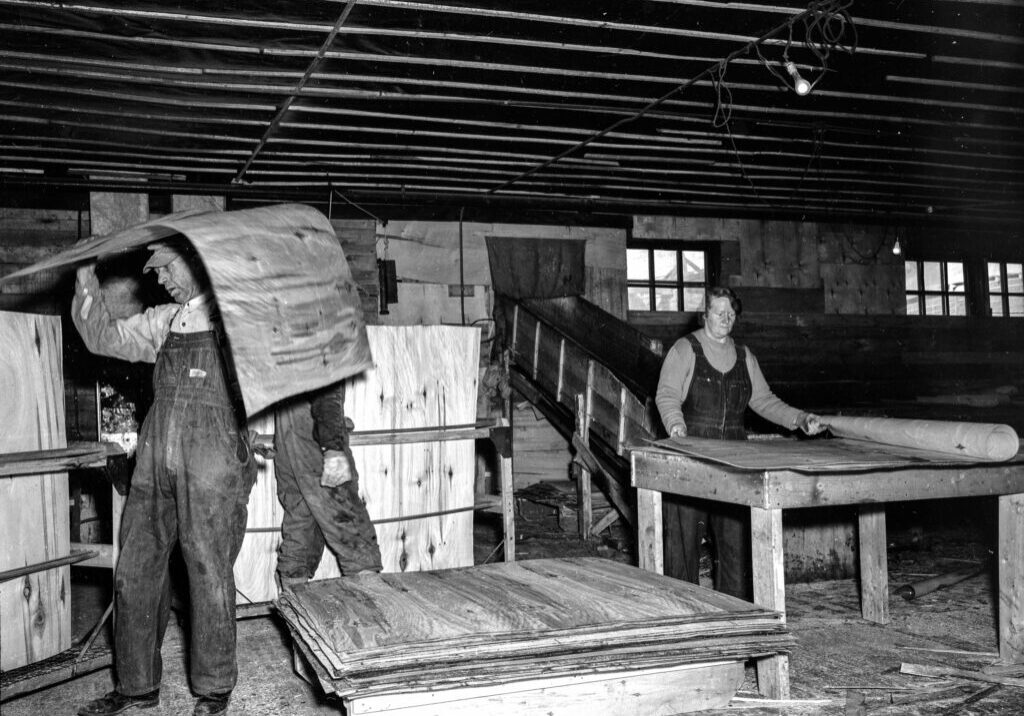 Brooke Leifso
Throughout the early 20th century, Jasper Place was home to a number of lumberyards and mills that have all closed without leaving many buildings or plaques as lasting memories. We are curious to learn more about the workers, owners, and clients involved in these businesses.
Merrill D. Muttart and Gladys Edith Muttart opened M.D. Muttart Lumber Company in 1935 at 15404 Stony Plain Road. Gladys, an advocate for Indigenous communities, was gifted a totem pole by its artist, Chief Mathius Joe Capilano of the Squamish Nation. This totem pole resided at the lumberyard until it was given to CFRN. It can now be found at the Royal Alberta Museum.
Northern Plywood, owned by P.D. Fuhr and local resident C.R. Tufford began operations in 1946 in the building previously occupied by the Muttart Lumberyard. We know that Northern Plywood's 30 employees were a mixed gender crew — a rarity at the time—and we'd like to know who they were. Northern Plywood was the only Canadian manufacturer of poplar plywood. There were two fires at the company in 1948. The first, on February 4th, destroyed the main building. It started in the insulating material of what the Edmonton Journal calls "a rambling" building with the flames spreading to the drying and dried poplar plywood. Machinery was destroyed. Four and a half months later, the second fire occurred, completely ruining the business.
In 1953, Imperial Lumber opened at the same address. It was a flagship store for one of the largest companies in Canada at the time. The building, a block long, sold appliances, heating equipment, tools, and china as well as lumber. Its Jasper Place Location boasted natural light and "easy to get at counters."
We've also heard there was a lumber mill on the site of New West Hotel before it was built, and that Burton's Lumber, Westlawn Lumber, Direct Lumber Co., and City Lumber Co. were also present to serve the Town of Jasper Place's needs in the mid-1950s.
We are certain there are local houses with foundation beams that came from Muttart, Northern Plywood, or Imperial Lumber, or from the other yards, and there are remnants of mid-century wood paneling in a local bungalow. Without us knowing, the lumberyards hold up our buildings and frame our lives (pun intended). Have a lumberyard story to share? We'd love to hear from you: jasperplacehistory.org, [email protected]
An update to An Influx of Change: A Tribute to Corner Pharmacy in SPANN: Spring 2021 by Brooke Leifso : "The pharmacy at the corner of 156 Street and Stony Plain Road was Miller Drugs for decades and then it became the first, or one of the first, Shopper's Drug Marts in the city. The Shopper's store was still operated by Stan Miller. After he left the business, the pharmacy operated under numerous badges, before becoming the Corner Pharmacy. Clock drugs was at the east end of the shopping strip." Deliveries also went to all kinds of residents as not everyone had a car. – Joe Miller