Spiced to Perfection: Guru Restaurant & Bar Brings Modern Dining to Traditional Cuisine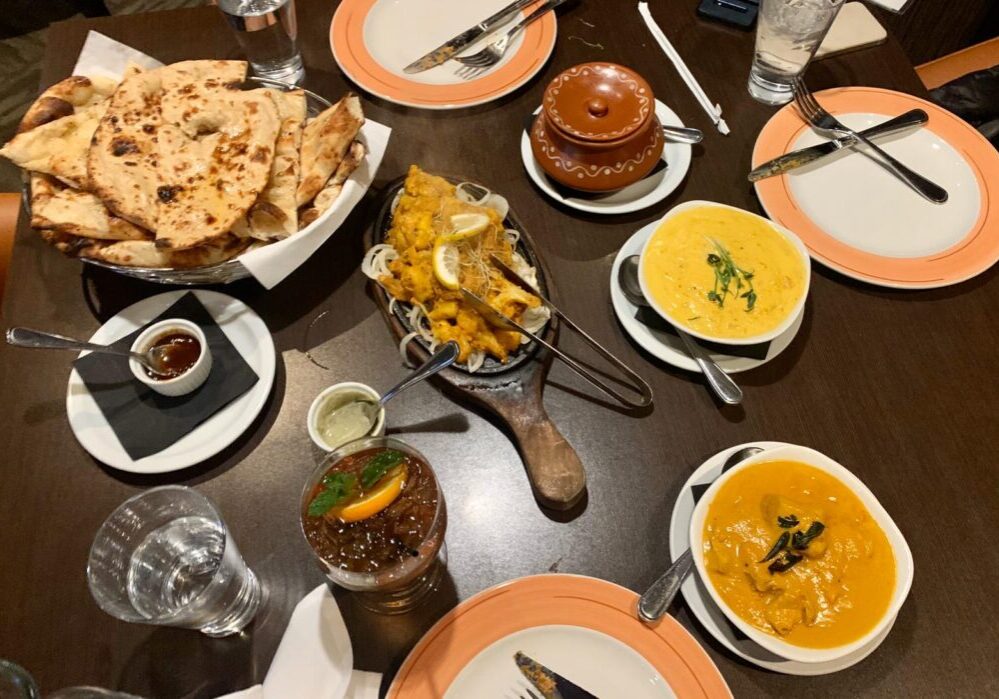 Heather Gunn
Indian cuisine is a staple for many when comfort food comes to mind, especially as a go-to take out option. Guru Restaurant & Bar on Stony Plain Road is taking it up a notch and has transformed Indian cuisine to an incredible standard of modern fine dining. 
With two locations in Edmonton (one on the West end and the other in Downtown's ICE District – each featuring a different menu), this contemporary restaurant concept features elevated versions of beloved Indian dishes. The West end location, featured in this review, is a welcome escape from the cold Edmonton winter. As soon as you pass through the entrance underneath their glowing orange sign, you are immersed into a welcoming environment that looks and feels incredibly upscale.
The décor, especially the warm oranges and brown tones throughout (featuring incredibly comfortable seating) set the tone for the delectable flavours you're about to experience. As a party of three, none of us had been to Guru before, so we were excited to try multiple menu options to get a taste of their offerings.
To kick off the meal, we opted for some refreshing drinks (I went with the Fire & Ice), and two orders of the Butter Chicken Samosas to share; These are more than enough for 2-4 people! They are large samosas bursting with Guru's signature butter chicken recipe. For those concerned about spice level, these are very mild (and very filling!).
Going into the main course, our waitress was very helpful with recommendations and let us know that almost all of their main dishes are designed for sharing (but can easily be eaten for one if that is more your style). Because we already had a taste of the Butter Chicken, we were all ready to sample more of the menu!
All entrée dishes are served alone, and rice or naan bread can be ordered separately if you wish. I opted for the Mango Chicken, which was creamy and delicious. The mango sauce (that also has coconut) isn't overpowering, it just adds a rich depth of flavour to the chicken. Our group also ordered a basket of naan bread to share, which was the ideal size for 2-4 people.
My friends each ordered an entrée also – one opted for the "Dhaba" Lamb Curry, and the other opted for the Fish Moilee. To top it all off, we also ordered the Coastal Aloo Gobi (a vegetarian cauliflower dish). We gave everything a taste and it was all absolutely great. The authentic flavours and bold spices really come through in each dish, and everything was cooked perfectly.
We had plenty left to take home – and it tasted just as delicious the next day! Whether you visit Guru for dine-in or take out, you won't be disappointed with their top-tier service, flavours, drinks, and authenticity. If Indian food is familiar to you, or if you're new to this cuisine, you will find something here that pleases your taste buds.
Guru Restaurant & Bar
17021 100 Ave NW
Heather is a former freelance writer for Vue Weekly and a current copywriter with S.O.S. Media Corp. You can follow her on Instagram: @yeg_flavours