Local Pasta Spot is a Stony Plain Road Highlight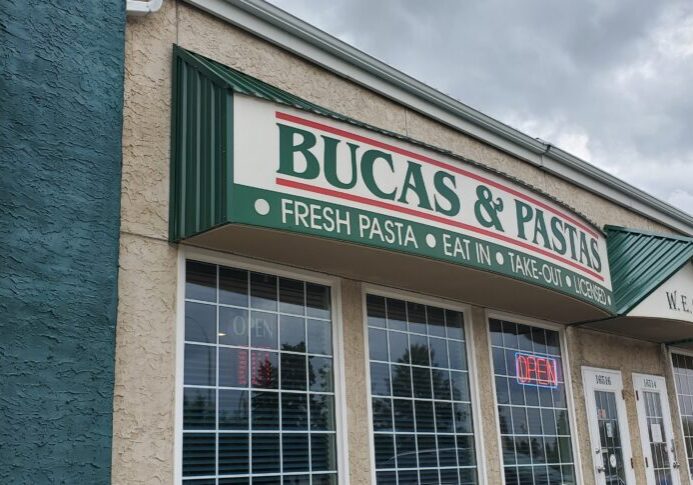 Bucas and Pastas
16516 100 Avenue
780.496.2461
Family owned and operated since 1996, Bucas and Pastas is a neighbourhood favourite that Italian food lovers can't miss. Located along 100 Avenue in West Edmonton, they offer an abundance of comfort food available for take-out, dine-in (when possible), and catering. 
Upon entering the restaurant, my friend and I were greeted by friendly staff members who promptly gave us an overview of what was available – including a variety of pastas, salads, and desserts. It's served up counter-style, where guests can mix and match fresh pastas and sauces in several portion sizes.
The restaurant is small but inviting and has a lot of charm. They have great safety measures in place, such as hand sanitizer on the counter and staff wearing masks, which made us feel more comfortable when entering and ordering. 
I went with the tortellini (large portion size) and paired it with a classic red sauce. To round out my meal, I also opted for a small caesar salad and garlic toast. My friend went for the Cajun linguine (large portion size) and paired it with the creamy mushroom sauce, as well as a small Greek salad and garlic toast. To top off our meals, we got one slice of the 'Death by Chocolate' dessert to share.
The tortellini was pillowy soft and had the perfect amount of meaty filling. I'm glad I opted for the red sauce, as it complimented the pasta well and didn't overpower the flavour of the filling. The large portion size was more than enough for a meal and some leftovers (unless you're really hungry!). The caesar salad had a delicious dressing that garlic lovers will appreciate.
My friend said her pasta dish with the mushroom sauce was incredibly creamy and had a lot of flavour, and that the Greek salad had plenty of fresh vegetables and a tasty dressing. We both enjoyed our garlic toast, which tasted homemade (garlic butter on a toasted bun).
When it came time to dive into our dessert, we easily split the large slice into two and it was more than enough for each of us. I highly recommend doing this unless you have room for a big dessert portion. The chocolate flavour was very prominent, with a light chocolate cake that was layered with a whipped/mousse-like topping. 
Overall, our meals were very good and we both noted that we can't wait to come back to sample more of their freshly made dishes! Bucas and Pastas is open Monday through Saturday. 
Heather is a former freelance writer for Vue Weekly and a current copywriter with S.O.S. Media Corp. You can follow her on Instagram: @yeg_flavours.