An Influx of Change: A Tribute to Corner Pharmacy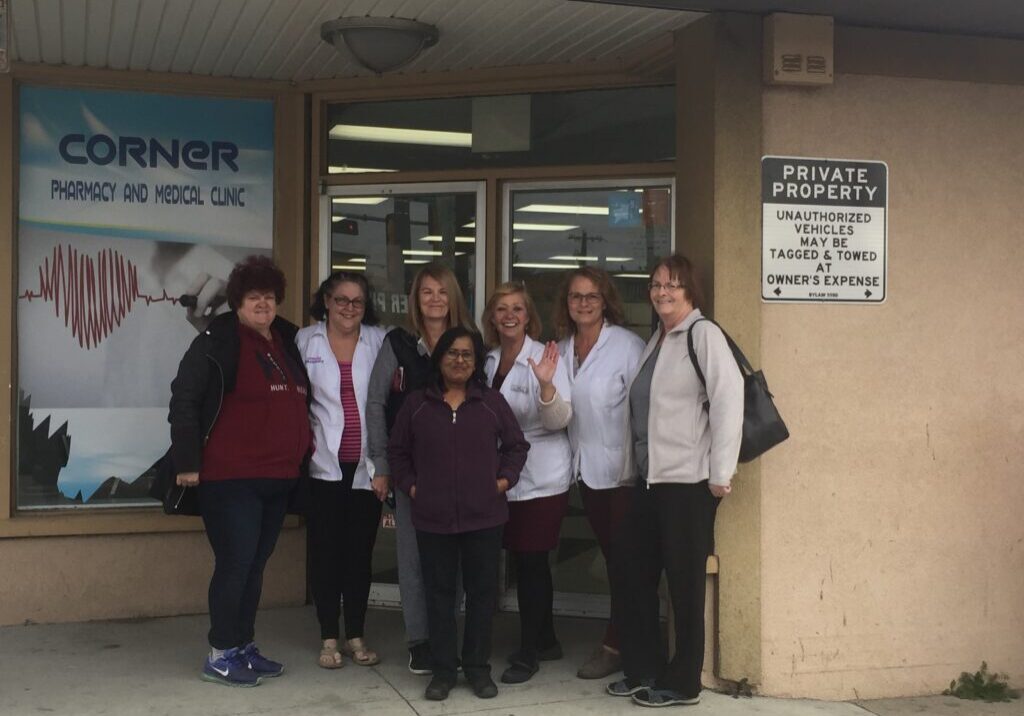 Jasper Place is currently experiencing a major flux of change. Long-standing buildings have come down in the name of progress for the construction of the Valley Line West LRT route. Today, we highlight one of those businesses: the Corner Pharmacy, which has been on the corner of 156 St. and Stony Plain Road since the 1950s.
In our talk with Barrie Touchings, he speaks about his very brief experience as a boy working for the pharmacy, then owned by Mr. Miller.
In the 1950's, he remembers two pharmacies in Jasper Place: Etherington Pharmacy and Clock Drugs (only later known as Corner Pharmacy). They served the needs of the Jasper Place community by providing essential medicine and over-the-counter medical supplies. Barrie Touchings recalls his time as a delivery boy in the 1950s. From his 10-year-old perspective, it was a big job! Before, he would come into the pharmacy for a chocolate bar, but once hired, his job was to deliver medication by bike, stock shelves, and help as needed. It was a standard pharmacy with aspirin and bandages on the open shelves, and a sectioned-off area in the back where prescriptions were filled. He recalls his deliveries were mostly to elderly clients who were immobile, blurring together in a category of "Old" in his young boy mind. On his very first day delivering, he got a flat tire! No wonder since he noted that there were no paved roads within Jasper Place, and the roads would be, at best, clay-based mud topped with gravel. Barrie painted a picture of Jasper Place as a boy, with a farmer's field west of Mayfield and a wooded area perfect for forts, and Canora School built upon an old railroad track.
Clock Drugs (Corner Pharmacy) was a mainstay on 156 Street and Stony Plain Road for approximately 70 years. Staff stayed surprisingly consistent, with some employed for more than 30 years, says Lynn Mottram. It delivered medication to the local residents and provided essential care as Jasper Place evolved and grew. Corner Pharmacy, now owned by pharmacist Amir Ibrahim, is still in the community, having moved to 10118 156 Street in October 2019.
The LRT construction is radically changing the makeup of Stony Plain Road. What will stay the same and what will radically change once the LRT is complete?
Have a story of the Corner Pharmacy or another business that has moved due to the LRT expansion? Jasper Place Community History Project is looking for your stories of Jasper Place! Please check us out on Facebook or www. jasperplacehistory.org or email us at [email protected].
Update April 11, 2021: "The pharmacy at the corner of 156 Street and Stony Plain Road was Miller Drugs for decades and then it became the first, or one of the first, Shopper's Drug Mart in the City. The Shopper's store was still operated by Stan Miller. After he left the business, the pharmacy operated under numerous badges, before becoming the Corner Pharmacy. Clock drugs was at the east end of the shopping strip."
Deliveries also went to all kinds of residents as not everyone had a car. – Joe Miller