Stony Plain Road Business Association Update – Summer 2021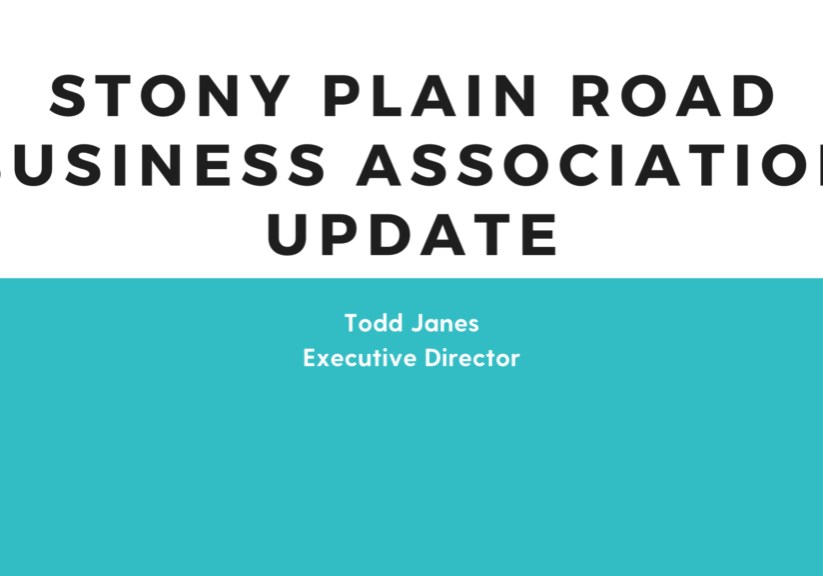 Todd Janes 
I hope you have an opportunity to read this article while the days are long, reclining in a comfy chair with the sun kissing your face and a gentle breeze keeping you cool. After over 15 months of playing with the bouncing ball of restrictions to stay healthy and protect all of us, I am writing this as businesses and all of us begin to emerge from over a month of restrictions brought on by the third wave of COVID-19. Today it's raining and it's overcast and I have been jutting around our area trying to ensure that our summer flower program planters and hanging baskets are being placed where we have planned. I have also been able to chat briefly and physically distanced from our business owners. I think that the flowers are points of light for all of us to signal that we have survived and we are emerging from this pandemic. 
Pausing to literally smell the flowers, I met a business owner who joked to me that I should take a little time to check the flowers, but not too long. I pulled down my mask, said hello, smiled and I asked how they were doing. The business owner commented that it's been a long haul and finally, maybe, there is light at the end of the tunnel. We both agreed and held tightly onto our shared hope. We talked about the difficulties they have had and some businesses that we have lost and speculated about what will come next to these places. I am sure we all miss these small encounters and chats and it was not lost on either of us. We will be rebuilding for some time, however I am very hopeful of the future because of the passion and dedication of so many of our SPR businesses and how they have navigated these times with compassion and hard work. 
I also am getting a better sense of our community along and throughout SPR and how placemaking is such a very integral component to building back better. Essential to any mainstreet is a stronger sense of identity and shared visions of what we are building and how important locality is for our local economies and to building stronger neighbourhoods for families and businesses. We need a better sense of connectedness – of being inclusive and of collectively building local, stronger communities. We need more spaces along SPR that we can collectively gather, bring friends and family members. More places where we can people watch, connect with others and relax over amazing food, refreshing beverages, and engaging conversations. Small pockets of positive interactions where we laugh, share stories, and at times, support each other and listen deeply. Things like flowers, benches, pop-up tables and chairs help humanize our spaces and allow us to watch the street and understand the rhythm of the Road. It also creates more inviting spaces to allow people to come to our area to shop, to explore and to celebrate. 
If you have ideas to share, concepts to discuss, or thoughts or concerns, please reach out and let's talk more. 
Todd Janes is the Executive Director of the Stony Plain Road Business Association and can be reached at [email protected] or 780.477.5169.