The Young Giant
Big Bucks Campaign!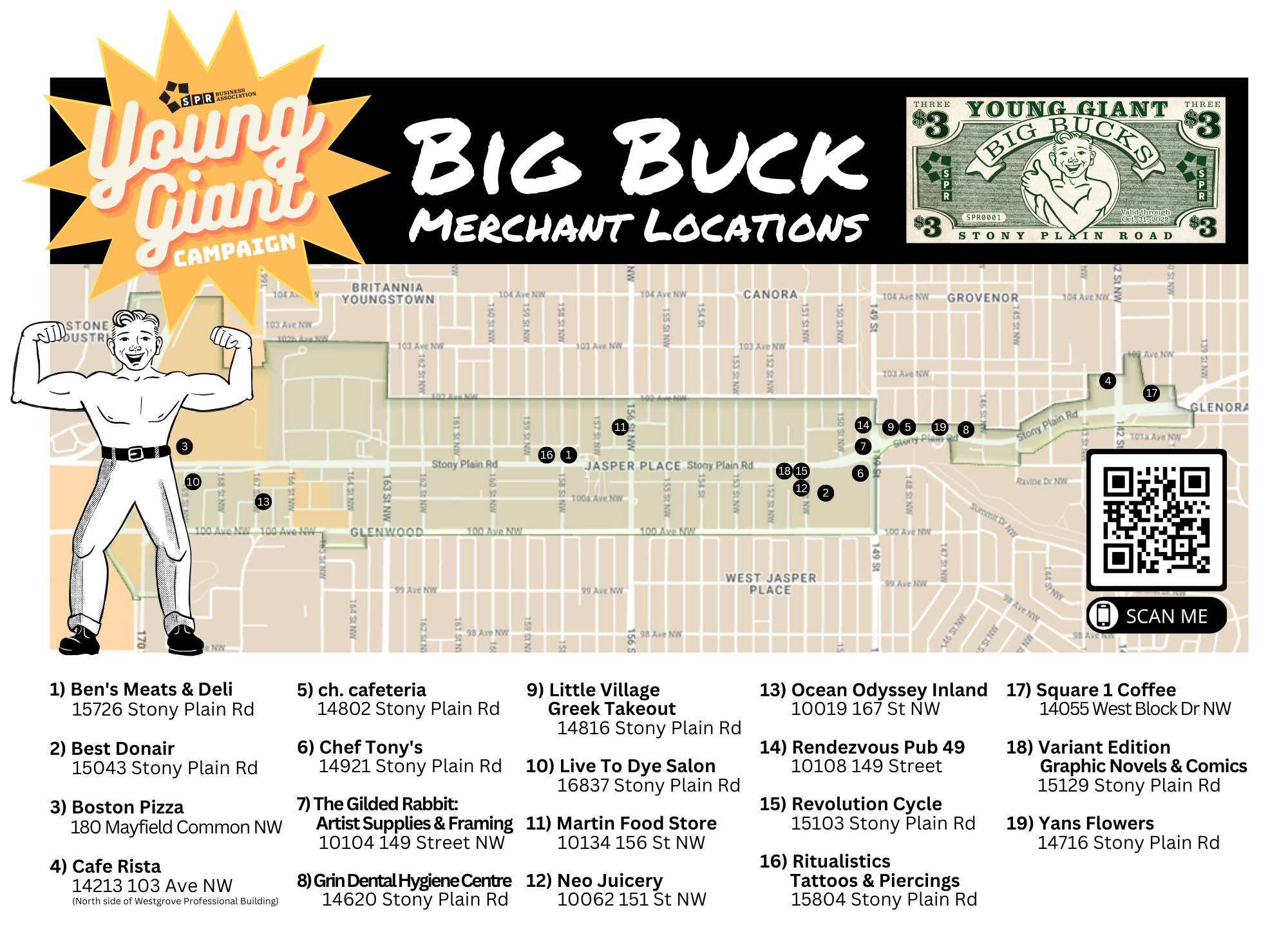 WHAT IS THE YOUNG GIANT CAMPAIGN?
Save across Stony Plain Road with Young Giant Big Bucks!
Big Bucks offer a $3 discount for every $10 you spend!
WHAT DO BIG BUCKS LOOK LIKE?
Each Big Buck has a unique serial number. They are a light green on the front, and a colour back with terms and conditions: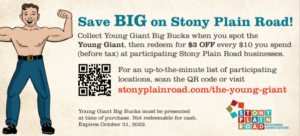 WHERE CAN I SPEND BIG BUCKS?
This list of vendors is subject to change:
Ben's Meats & Deli
15726 Stony Plain Road Best Donair
15043 Stony Plain Road Boston Pizza
180 Mayfield Common Northwest Cafe Rista14213 103 Ave NW


(North side of Westgrove Professional Building)

ch. cafeteria
14802 Stony Plain Road Chef Tony's
14921 Stony Plain Rd Foody Mart
10008 156 St NW The Gilded Rabbit
Artist Supplies & Framing
10104 149 Street NW Grin Dental Hygiene Centre
14620 Stony Plain Road Little Village Greek Takeout
14816 Stony Plain Road
Live To Dye Salon
16837 Stony Plain Rd Neo Juicery
10062 151 Street

Ocean Odyssey Inland
10019 167 St NW

Ritualistics
15804 Stony Plain Road Rendezvous Pub 49
10108 149 Street Revolution Cycle
15103 Stony Plain Road Square 1 Coffee
14055 West Block Dr NW Variant Edition
Graphic Novels & Comics
15129 Stony Plain Road Yans Flowers
14716 Stony Plain Road
The "Young Giant" was a term used for Canada in the 1960's during rapid industrial and urban expansion. This larger than life mascot promoted the Town of Jasper Places' late night and weekend shopping as attractions, and to emphasize the town as a vibrant place to live and start a family.
When the Valley Line West LRT is completed, Stony Plain Road will continue to develop into a transit-orientated community with an estimated 25,000 new residential units.
The SPRBA sees potential in reviving the Young Giant as a recognizable mascot for the business area. He represents the spirit and vibrancy of the local community and reflects Stony Plain Road's unique history, while offering local businesses a fun, friendly, and commonly-shared mascot.
WHEN DOES THE CAMPAIGN BEGIN?
Our second pilot runs from November 2022 to March 31st, 2023.