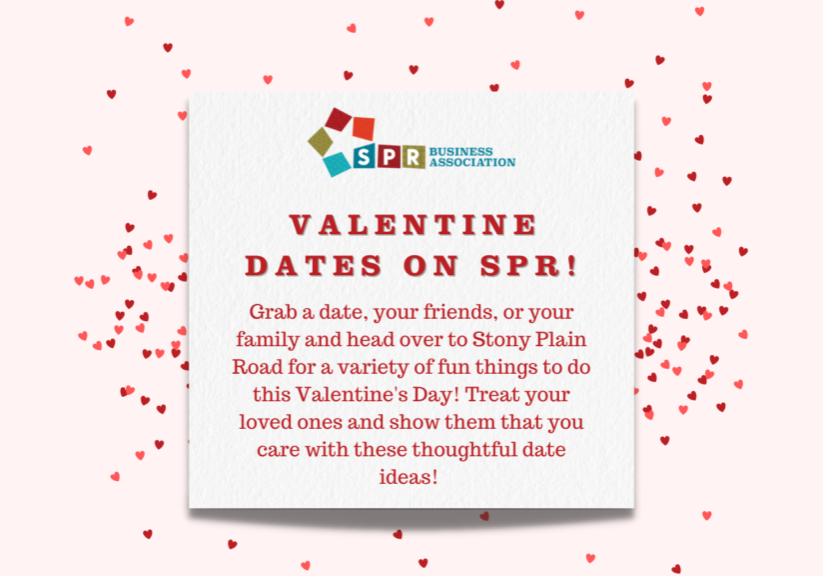 With Valentine's Day approaching on February 14, you may be starting to arrange a special day with your loved one, your friends, or your family. Valentine's Day is a day to celebrate your love for the special person/people in your life and what better way to do that than to spend some quality time supporting your local businesses? We're bringing you some Valentine's Day inspiration to help you plan some special dates!
Virtual Golfing
Did you know that Stony Plain Road has their very own virtual golfing business? Longshotz Golf is located at 15117 Stony Plain Rd and offers 4 private rooms which feature Trackman and over 100+ courses to choose from. Their Trackman performance centre offers lessons, practice, club-fitting and equipment sales. Get some golfing in while the snow melts and try a Longshotz date night!
Website: https://www.longshotzgolf.ca/
---
Chocolate Dates
Ch. Cafeteria located at 14802 Stony Plain Rd has put together some fun chocolate themed dates! Their Valentine's Day special runs on February 14 from 6:00pm to 9:00pm. Choose from a dinner for two, a painting date and chocolate tasting, a chocolate fondue date, and a indoor s'mores date!
Learn more and register here: https://www.ch-cafeteria.com/shop
---
Thrifting
Go on a fun thrifty date! Thrifting has become a fun pastime in the last few years, give it a try with some of our great thrift shops on Stony Plain Road. Blue Jar Antique Mall (15230 Stony Plain Rd) carries tons of vintage items, you never know what gems you'll find!
More Than a Fad thrift store (9970 170 St NW) is new to Stony Plain Road and offers a great selection of clothing items in support of the Adeara Recovery Centre.
Mission Thrift Store (15222 Stony Plain Rd) also carries a wide array of items perfect for thrifting.
Websites:
https://www.bluejarantiquemall.ca/
https://missionthriftstore.com/
---
Coffee Date
Want to keep things casual? Grab a coffee! We have some great coffee options on Stony Plain Road. Shake things up and try something new! Whether you're catching up with the friends or having an intimate date, Cafe Neo (10051 152 St NW) has a modern atmosphere that will set the mood! Halawa Lebanese Bakery (9951 170 St NW) also has fantastic drink options and a delicious array of sweet treats that are sure to keep you and your date happy!
Websites:
https://halawabakery.business.site/?utm_source=gmb&utm_medium=referral
---
Culinary Adventure
Do you and your date like to cook? Check out these culinary shops for inspiration for a do-it-yourself Valentine's dinner! Ben's Meats & Deli (15726 Stony Plain Rd) has a great selection of meats and cheeses perfect for an intimate dinner at home. Craving some seafood? Ocean Odyssey Inland (10019 167 St) is the place to go! From fish, to shellfish, and more, you are sure to find something delicious for your sea themed feast! Looking to spice up your meal? Check out Thousand Spices (14814 Stony Plain Rd) for unique flavours to give your dishes that extra kick.
Websites:
https://www.oceanodysseyinland.ca/
---
Arts & Crafts
Get artsy this Valentine's Day! Perfect for the family, galentines or for your significant other. Stop by the Gilded Rabbit located at 10104 149 St, and pick up some fun art supplies! Pick a theme or try creating a portrait of your loved one. There are so many possibilities for creativity with the Gilded Rabbit. Unsure where to start? The staff at the Gilded Rabbit can help you decide on a project for your skill levels!
Website: https://www.thegildedrabbit.ca/
---
Couples Massage
Experience a couples massage at Massage Heights located in Mayfield Common (356 Mayfield Common). A couples massage is an experience for two that encompasses massage's mental and physical benefits while promoting relationship health. This experience still provides their signature massage tables and linens but is offered in a larger retreat room with two therapists who customize the session to each client's needs while coordinating their start and finish times.
Experience the gift of self-care and relaxation with someone you love in one of our inviting couples therapy rooms. Please Note: While it is common to choose a couples massage as part of a romantic experience with a spouse, girlfriend, or boyfriend, it is their experience that this treatment is often scheduled with a friend or other loved one
Website: https://www.massageheights.ca/
---