Ch. Cafeteria is a Chocolate Lovers Dream Come True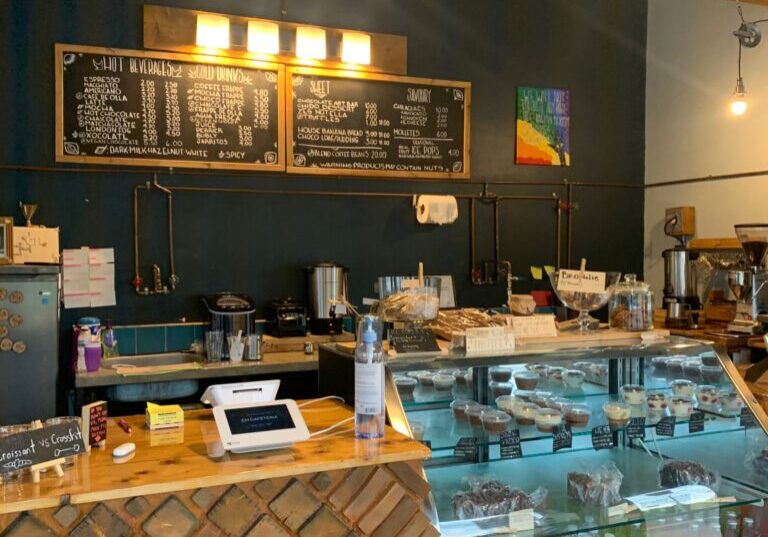 Heather Gunn
Ch. Cafeteria
14802 Stony Plain Road
www.ch-cafeteria.com
Craving chocolate? You'll find it in plentiful supply at Ch. Cafeteria, a cute café that now occupies the old Balloon Gang location on Stony Plain Road. Locally owned and operated, this café has incredible charm. Their menu is focused around authentic chocolate and features mostly sweet treats and drinks, with a few savoury options in the mix.
A friend and I recently stopped by Ch. Cafeteria to get a feel for the space and taste-test some of their offerings. We were greeted by a quaint, warm atmosphere that made us feel right at home. We immediately noticed the eye-catching chocolate desserts in the display case, along with the wide array of drinks and other food on the menu board.
I ordered the milk chocolate frappe and a slice of chocolate loaf, while my friend ordered a hot matcha latte (dairy-free) and a chocolate mousse. The frappe was decadent and creamy, with the milk chocolate really standing out.
If that wasn't enough chocolate, the chocolate loaf was even more of an indulgence! Similar in texture and taste to rich chocolate cake and lightly topped with a chocolate frosting, the loaf was a standout for me. I would order a slice every day if I could!
The dark chocolate mousse was equally as rich as the loaf, and my friend noted that she was very impressed by the strong chocolate taste and creamy texture. Her latte was also a hit; The non-dairy matcha was fragrant and delicious. Whether you're vegan, vegetarian, or prefer real dairy, there is an option here for you.
If you're not in the mood for drinks or food, the cafeteria also has a mini market that offers chocolate bars, chocolate pearls, artwork, jewelry, and much more. There really is something to please everyone at this café!
This would be an ideal spot to grab your morning coffee (they open at 8:30 am), to have a casual meetup with a friend, or to pick up an afternoon treat on the way home. It has such a homey vibe, and even though the seating is limited, it's a great place to sit and chat.
As a chocolate lover, I know I'll be back in the near future to sample more of their tasty desserts, drinks, and food options.


Heather is a former freelance writer for Vue Weekly and a current copywriter with S.O.S. Media Corp. You can follow her on Instagram: @yeg_flavours