SPR RAMPS-UP THE SUMMER WITH… CHALK IT UP FOR INCLUSIVITY!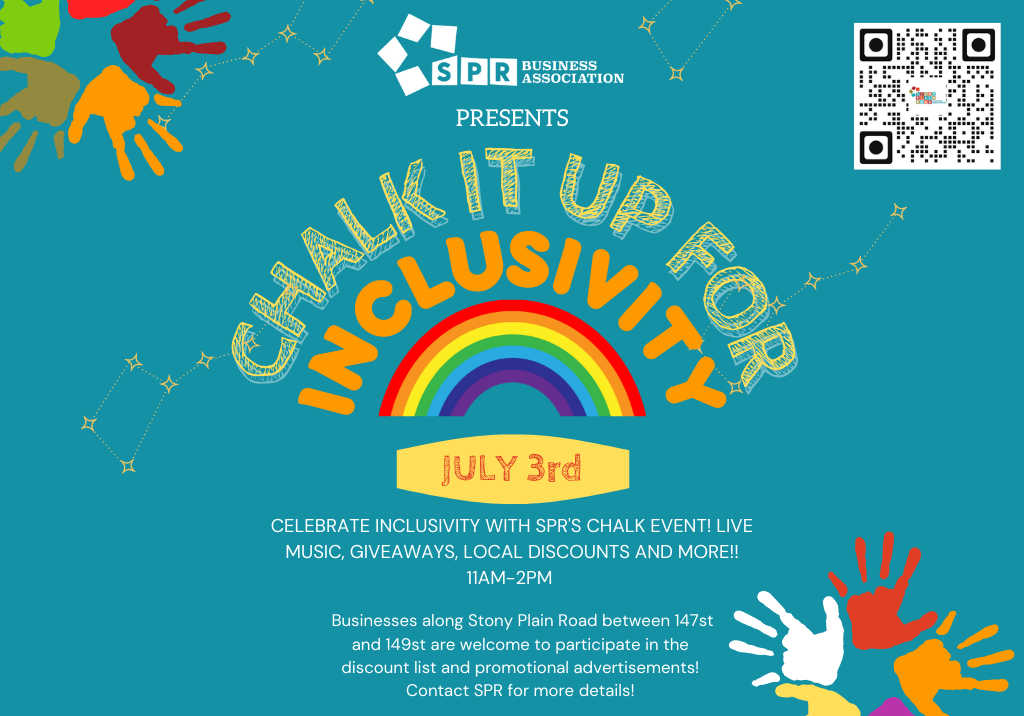 What: A community event featuring chalk art geared towards families advocating for diversity and inclusivity within the Stony Plain Road BIA in addition to promoting local shopping by offering discounts and promotions within a localised area. 
When: Sunday July 3rd, 2022. 11am-2pm at CH. Cafeteria (Stony Plain Road and 148 street). 
Event Details: Will include local Indigenous and Queer identifying artists providing entertainment, local artists facilitating the chalk-drawing, along with giveaways and a weekly promotion including the surrounding businesses the week following the event! 
Come with your spirit for inclusivity with SPR to show support for everyone and embrace the uniqueness and diversity within our community! The event will be hosted by CH. Cafeteria, a local eatery where artisan chocolates, local jewellery, coffee and brunch are served six days a week! 
Enter your name in draws to win prizes from our local businesses giveaway prizes and browse the local shops to receive special discounts for the week following the event! 
See below for a list of participating businesses in the area:
Covid Protocol: SPR and all participating businesses will adhere to the current covid protocol guidelines. Please do not attend the event if you are feeling unwell or exhibiting any flu-like symptoms. Handsanitizer will be available on site for all participants.
*For participation in promotional deals, please contact Samira Kabbani, Shop Local Assistant at [email protected] with the discounts or special offers that you would be willing to provide by Monday June 20th @12pm MST. For questions about the event specifically, please reach out to Sara Sereda, Special Events Assistant, at [email protected].