SPRBA Seeking New Board Directors for 2022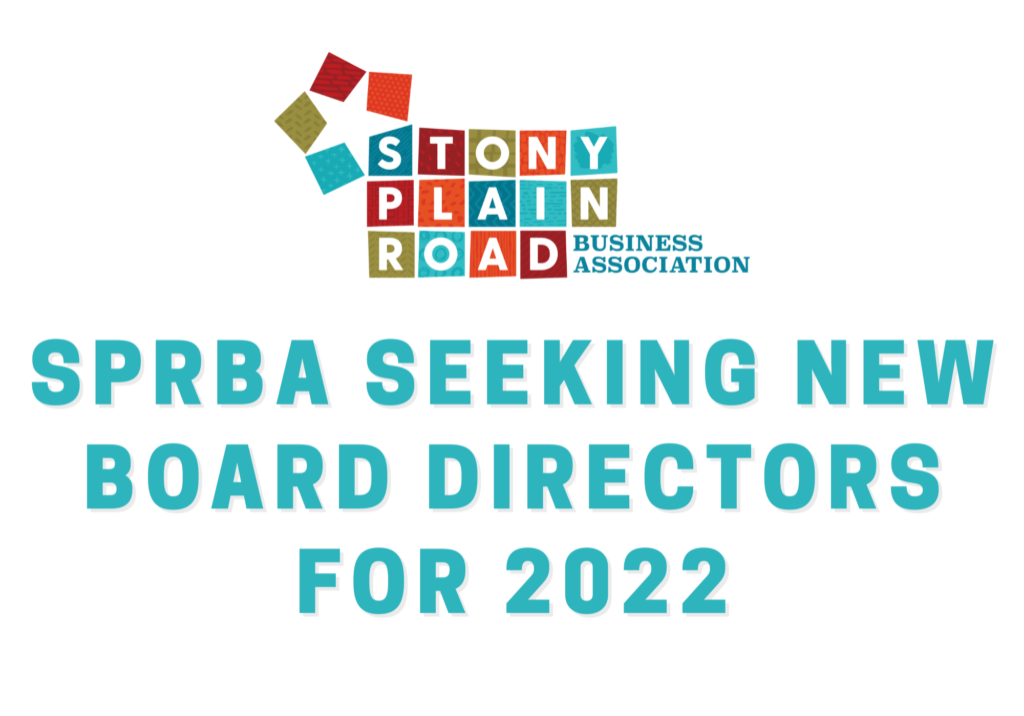 Stony Plain Road Business Association was established in 2005 and focuses on the beautification and marketing of the area. We work to develop and coordinate marketing, promotions, special events, street beautification, safety and security, and place making all through the lens of economic development. We serve as a united voice for businesses in Edmonton's west end along the Stony Plain Road corridor. As a not-for-profit organization, the BIA is funded primarily by commercial property owners and businesses through a BIA tax levy.
The SPR Board of Directors actively works to build a unique, diverse and resilient local economy along Stony Plain Road between 140 to 170 Street. The Board is seeking individuals to be part of the economic development, community-building, and place-branding done on behalf of and for businesses in Edmonton's central west end. Skills in development and urban design or planning is a focus within the upcoming year. The Board operates at a governance level and has a strategic overview of the organization's activities and relationships. Previous board experience is valued, but not necessary.
Business leaders with interest, experience, and skills in governance, planning, and urban developments are encouraged to apply for the Board of Directors. This is a volunteer position and Board Members are not financially compensated. The Board meets ten times a year for about 20 hours a year for meetings and preparation. Board members serve a one-year term with the possibility of renewal. Owning or working for a business within the SPRBA catchment is required.
Please reach out to the SPR at [email protected] with your expression of interest to serve on the Board no later than 07 September 2022.
The SPRBA membership can elect up to 15 Directors for those who meet the expectations of the role and responsibilities. Board Members can be property owners, business tenants, or an authorized representative of an SPRBA member organization. All candidates are required to meet with a member of the Executive Committee and the SPRBA Executive Director as well as complete a nomination package to be eligible for election.
Questions: Please reach out to Todd Janes, Executive Director, at [email protected]