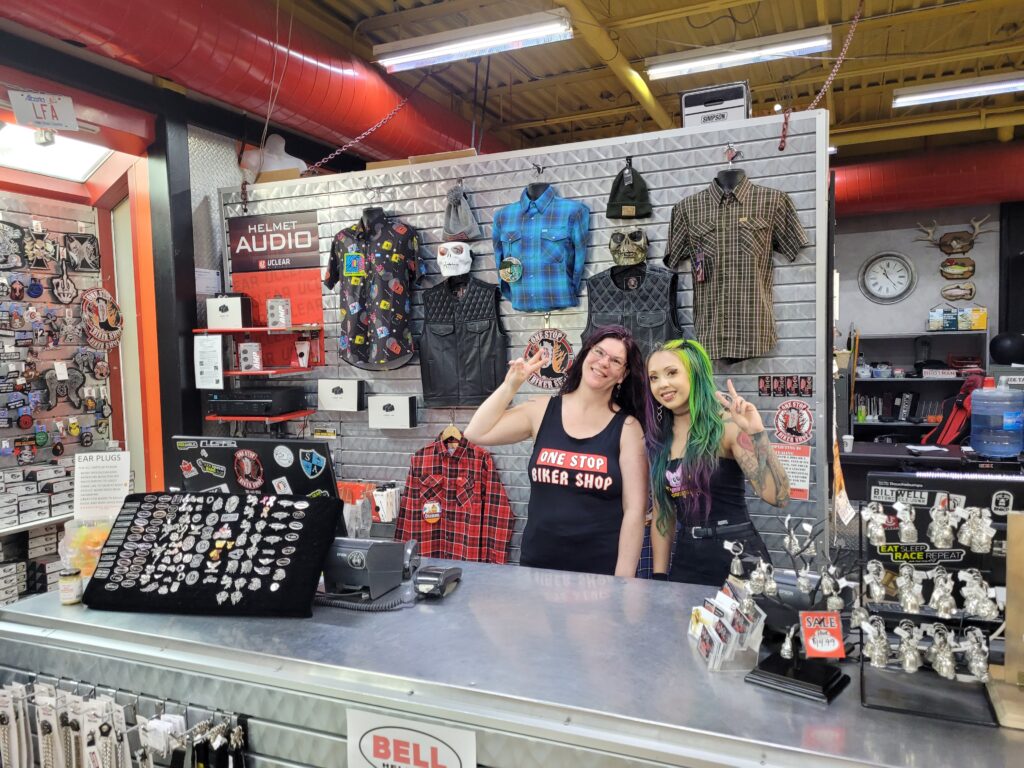 ONE STOP BIKER SHOP: FROM HEAD TO TOE!
ONE SHOP, ONE STOP!
Walking in to One Stop Biker Shop, you quickly recognize the scale of the location and the light that the numerous custom-built skylights peppered throughout the building bring in. This bright and inviting store is not only your biker headquarters for gear, but also cowboy and western wear, leading in brands such as Dixon, Headrush, and Lucky 13.  Angela, manager at One Stop, emphasizes that without a sales target staff can focus on providing honest feedback and suggestions. The result is a friendly, real atmosphere that focuses on what you really need.
And let's not forget The Boot!  At four stories tall, (39'4" to be precise), it may be the tallest cowboy boot in the world! Covered in over 600 feet of neon tubing, the boot is billed as "...a flashing beacon to outlaws, renegades, and assorted ne'er-do-wells..." that signals the store as a home away from home. Built in 1989, its call still rings true today!
Fitting In To SPR
Originally the Western Boot Company, then Stallion Boot & Jean, the shop has been known as One Stop Biker Shop for about 13 years now. Dan, owner of One Stop, advises that he moved to their current location years ago when the city altered the traffic flow along Stony Plain Road, changing it from a one way to a dual lane, further underlining their long term presence in the area.
Angela praises local residents and customers of Stony Plain Road as friendly folk who have helped make One Stop Biker Shop popular through word of mouth, and the steady stream of customers who return as regulars. She also praises the area for its diversity in shops and services, such as the many places she can grab some gluten-free items on her lunch break.
The Boot is a huge conversation starter and draw to the general public, with multiple individuals and groups regularly taking pictures with it.  Serving as a proper landmark, it contributes to the vibe of the area, especially during summer.
LRT
"We're looking forward to see how traffic patterns shift... [with the completion of the West Valley Line LRT]" says Angela. Far from the epicenter of construction along Stony Plain Road, she is nonetheless curious to see if the reduction of traffic lanes east of 156 Street will impact one-way traffic heading eastbound on 100 Avenue. Otherwise, LRT construction has not impacted business - if anything, sales are up!
KEEPING IT REAL
A truly unique shopping destination, One Stop Biker Shop is guaranteed to have something for the cowboy, biker, or anything between. The stores' culture has a true commitment to being real, and this is apparent in their relationships with customers. But Angela puts it best: "We've got the finest quality you can get at an affordable price. We'll fit you up from head to toe, from the right helmet to the right boots! Let us keep you safe!"
One Stop Biker Shop
10007 167 St NW
Mon, Tue, Wed, Sat 9:00-6:00pm
Thursday - Friday 9:00-7:00pm
Sunday 10:00-5:00pm
@onestopbikershop
onestopbikershop.ca