SPR Emerge (SEPT 16 TO 26, 2021)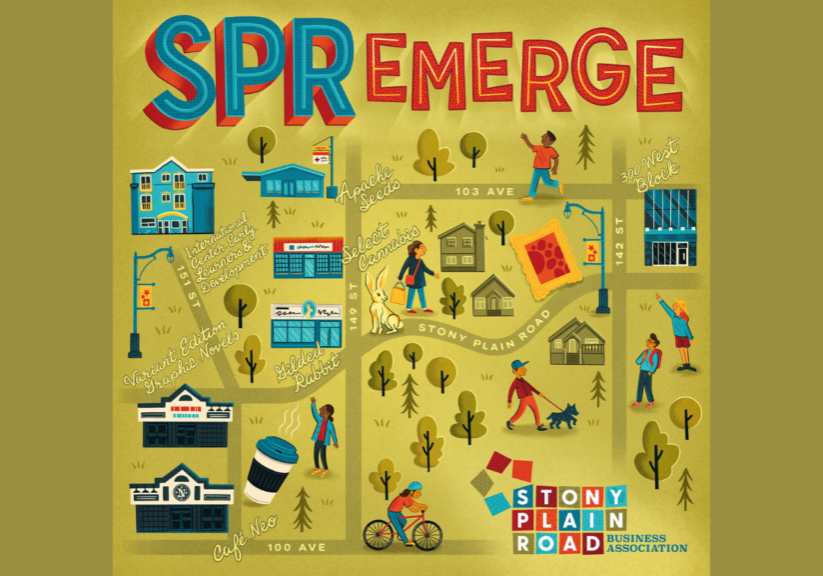 What?
SPR Emerge is a community engagement project that aims to increase pedestrian traffic and enhance the image along Stony Plain Road. The event has two parts: one is the installation of vinyl art onto the windows of businesses in the SPR area, and the other is the display of original, 2D artwork at a vacant storefront. Both the vinyl art and the 2D art were created by local emerging artists of Edmonton. At the vacant storefront, the pieces that are displayed all portray a certain relation to the SPR area and how it is emerging as a business and shopping center. Dedicated days will also feature live music at the vacant storefront area.
Where?
Vinyl artwork displays are in 6 different locations in the Stony Plain Road area. Below are the businesses that are involved with this project. The vacant storefront space where original artworks are being displayed is located in West Block. Both the participating businesses and the vacant storefront location are highlighted on our map.
Who?
Businesses:
International Center Early Learners & Development – 10125 151 St NW
Apache Seeds – 10136 149 St NW
Variant Edition Graphic Novels & Comics – 15129 Stony Plain Rd
Cafe Neo – 10051 152 St NW
The Gilded Rabbit – 10104 149 St NW
Select Cannabis – 10124 149 St
Cantiro – 110B 300 West Block vacant storefront
Artists:
When?
This event will run from Sept 16th – 26th 2021. Live music will be present at West Block site on Sept. 18th & 25th.
Sept. 18th – Saint & the Full 100 Band (2-4 pm)
Sept. 25th – The White Cats jazz trio (2-4 pm)
Why?
The end goal of this project is that there will be increased pedestrian traffic in the area. This increase in traffic will also hopefully become habit forming and help attract people year-round. We know that more pedestrian traffic correlates with growth in the number of people incentivized into going into shops and spending money. The involvement of the West Block area with this project also creates the opportunity for people to discover a new developing area of SPR. This is project encompasses just a small area of our BIA and we hope this encourages businesses and people in the area to get involved with our future projects.